Videl was doing her assignment, shooting Naruto music video at forestly garden.
I like the place~~very much, got a japan garden and forest!! most of them cosplay characters from naruto...ofcouse haha, cos naruto mv ma.
Hua kiong as roxas from kingdom heart...omg...see the video..not again..wakaka.
some of us boring so play around there..keekek. doing final fantasy walk. The blind organization XIII member and akatsuki fighting is funny.
Videl's video assignment continue shoot for 3 days. so those photos actually is differ day took d. many ppl jogging there look at us...got one ah pek wearing a funny hat @_@ yuki said he is the mage from final fantasy...cos his hat like magical hat
ryuten look good in sakura costume
some of the photo took by our member
the anbu
swt. rain new hair style
awww my leg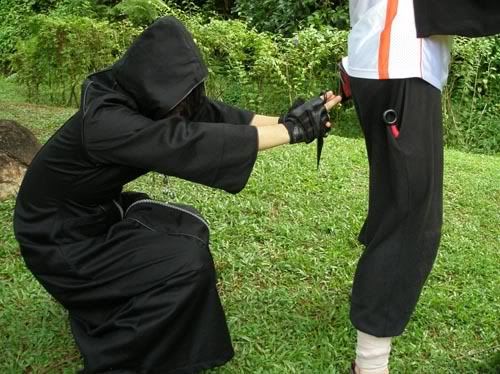 thousand year of pain