《2009把根留住》摇滚盛会 , the event start at 6.30 end at 11.30pm... 5 hours!! when i back home my ear already...@.@
first band start with monkeykat, our teacher's band. Nicolas wearing a hat, remind me of one japan anime by 宫崎峻 (50年代的飞机师。。哈哈)。Kan hui wear a police hat, remind me of a old japan manga..lol.(铁路长)
Some supporter at there dancing.
Then until the Hong Kong Band AMS, everyone shout loudly, they come from so far~
Got an ah pek group sing hakka song too..haha wow~
The show till Swing Habit this band, ppl start to crazy n high. Supports, fans, teacher and student from kenwy music rush to front stage! shout and raise their hand up. I saw kan hui at there playing whistle (哨子) pipipi~~
Then the next one, a band from KL. ppl already totally went crazy. In front stage there jumping, push each other, knock each other (人推人,人撞人) @.@ .even our teacher also do that...haha.
me at there shoot video also acident give knock tiok 2 times.
The vocalist suddenly jump from the stage and join suppoters pushing each other .@.@".
I saw the Hong Kong AMS band guitarist holding his hair and shack head, maybe he scare the wig drop..haha 还有人被抬起来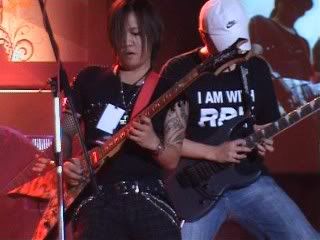 i heard b4, got a band, their vocal very rich, able to 雇佣 top and very geng d guitarist, drummer and bassist.
some of the band really good, but got 1 band really have to improve, cos stand like tree there, no contact with audience.
i did a big mistake!! my 2nd tape rosak!! sob T.T and also not enough battery...dint able to record swing habit full song. then force to use my handphone shoot.
Here the full song of monkeykat band and part of swing habit band.
video part 2, season, AMS hong kong, dyerbreed, slap, dream machine, rock paradise (miri)
video part 3, visualies, channel 1, single track mind(KL), khai, spider web, disable
look at ah wai (visualies) spinning his guitar, do not try this at home lol
-------------------------------------------------
below is low quality video..shoot by hp
Swing habit band(full)...T.T but shoot with my handphone, sry for quality
KL 浪 Band video (using hp):
http://www.youtube.com/watch?v=kUQGQTL5A6A
http://www.youtube.com/watch?v=CFiRnVHs-vc
http://www.youtube.com/watch?v=1g8oFateF6c
http://www.youtube.com/watch?v=IcQ20Plukvg
AMS hong kong (using hp)
http://www.youtube.com/watch?v=FtX6FgOZbmc
http://www.youtube.com/watch?v=8Z3fky7fpRk
http://www.youtube.com/watch?v=t_GRE6UuAww
http://www.youtube.com/watch?v=T6GHQVkrwcY
rock paradise - miri (using hp)
http://www.youtube.com/watch?v=sNFFMmM6Q64