Today went to shoot mv, cowboy is not busy first day~ dada~ some part still not yet shoot..umm. Location of today include pitanak sayur market....baka nien suggest d, and crown plaza toilet. D place not so good today, so plan to find jason another day for other place. dada~
baka nien said 9.00 start today...but when 9.00 i called him, he still sleep. i wake him up liao, but that sleep pig continue sleep again..till 11.00 baru wake up, jason them reach my house already 11.30 i think. a dui..waste time.
...and not enough car.....i have to drive my xiao hei out....cham.
Not many ppl at sayur market, because sunday. But crown plaza there lot, we walk from the toilet there lot of ppl look at us. One kid inside the car say hiiii to us..hahaha.
Jason Yong kiet seng as final fantasy 13 versus
Yong hua kiong as final fantasy 7 AC cloud
ah bui as shinigami with a cowboy hat
chin hui as roxas with a straw hat
shoot till 4.00 like that finish....sooo tired liao. My new car giv them kotor zo.
Then go eat dinner at the restaurant beside 12 tones,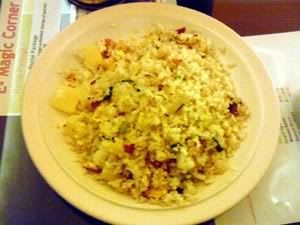 pineapple rich and hawaii fruit drink not bad.