At taman sahabat, then went to 4 miles food court have our dinner and drink..then move to boulevard shopping. Saw some new face there, the 2 yuna singer cosplayers, wow heard their relative help made their cloth..nice!
Too hot d whether today, so just wear half costume for the MV shooting enough.
having our lunch
boulevard Christmas tree
那班手痒的大朋友,看见圣诞老人在分糖果给小朋友,竟然上前要糖...真丢脸...假装不认识他们好了。
据说,这是全砂最大规模的霸级百货市场。听朋友说,还有8间戏院、32球道的保龄球中心、溜冰场、儿童娱乐中心、展览及促销厅...不过现在都还没看见,看来还未完工吧!再加上The Spring 的戏院,这么说古晋有4间戏院竞争了。
比起美里的富丽华,这里的货感觉还不及美里的多。可能才刚开张吧,所以进货还不多。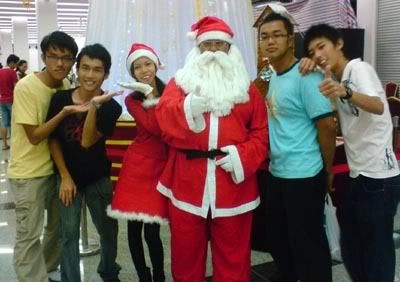 a group of family photo..lol...look bit gay leh
actually they want minta sweet from the santa ojisan..but...haha
dono why everywhere also saw that jimmy's face, boulevard there...go BDC there drink also saw jimmy again!