We shoot 2 Mv in same day. 1st the continue MV of cowboy is busy at taman sahabat, 2nd kai bian zhi zi.
Piggy nien sleep late again, dui him! said 9.30 he 11.00 baru wake up! somemore i ring him at 9.30 he no answer my phone, acting dono maybe.
So i drive go pick jason first, first time drive into that area @.@ but so lucky, never sesak jalan, first round already found his house. 12 lorong then 8 lorong. Cincai turn also correct..hahaha i am genius!
Then we eat first till 1.00 baru start shoot MV taman sahabat, Jason drive at there...lol he no license!! forgot to step crush when stop..hahaha
This one funny, riding a panda @.@ OMG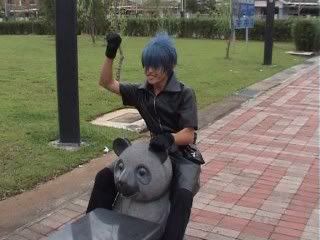 so much flowers ..hahaha
turn one round then bite d roses
kiong come at 1.30 like that, finish make up already 2.30 liao, then start shoot for 2nd mv, kiong drive car to sarawak plaza there. Many ppl look look at us @.@ some kids there shoot naruto......eerhhh where got naruto here, ichigo and ff13versus got la. lot ang mo also look at us @.@ Is this Malaysia??
Finish shoot at 5.00, ummm we stop at shell to pump oil...paisen i dono how pump oil. so kiong help, the obasan there ask what d cloth he wearing... hahaha
finish shoot the first one liao, so next mv, ichigo and ff13versus choing the roxas doll.
change location, drive to tun jugah
nyahahaha, u cant catch me
chasing at there
curi tulang