The banner at the road show 富丽华 boulevard open at 19 December....so i went there with friend at 20 December.....manu tahu....inside not yet ready. Worker was cleaning the floor there.
So went there again on another day after open day...! still many shop not yet move ye. So many ppl went there.....traffic super jam! jam till me tired.
圣诞节那天又和朋友到富丽华去,塞车情况没已没那么严重了。走近一看...原来...停在道路两旁的汽车都中了"三万"。所以大家可别因为一时贪方便而乱泊车。
进到里面,人多得像江鱼仔,只能用"人山人海"来形容了。富丽华霸级市场在最底楼,各品牌商品应有尽有,大约有20个付款柜台。而百货部和零售单位在2-4楼,有好多单位目前还在装修中,错过了赚钱良机也!本想到Kenny's Rogers 解决晚餐,谁知还是那么爆满,生意太好了,也是哪里唯一先营业的餐厅。等KFC, Pizza Hurt, Suchi King 等搬进来后,2楼可成了美食区。
There are total 4 floors, include underground one floor.
cloth section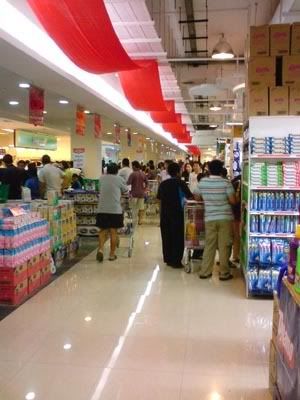 underground floor d supermarket, there are 20+ counter
our fav place, chocolate section