Majastic cafe buffet~ Locate inside riverside crown hotel, 1st floor. Reach there around 7.40, but many ppl inside, full and no seat, so have to wait till 8.15 like that baru got table and chair.
the cafe only wednesday and saturday got japan food sushi. Can ask the cook there do special sushi for u..so nice.
Also got a lot of cakes there.....yam i like their cheese cake and chocolate cake. taste nice. Fruits got watermelon, honeydrew, dragon fruit, green orange. Meat a lot chooise but i less take. salad also lot change. got japan soup and cold mee also.
Drink got the jasmine tea, hot drink got milo, capushino, coffer..lots, just press the button nia, ur cup will fill of those drinks..haha.
oya got ice cream also, i dint take.
i think the food total over 100 selection. really nice.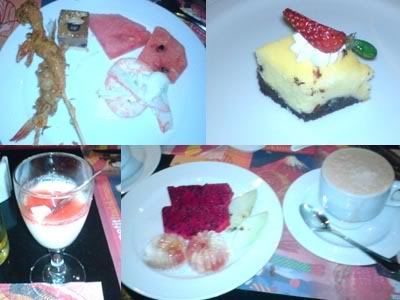 How much ? Each person rm 60, if got member card then half price. We eat till so full and can't walk, have to rest there for half hour baru can walk...first time eat till so full till almost puke.
lotssaa ppl
why eat d like this? so delicious ah