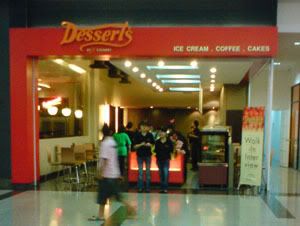 Went to boulevard, desserts ice cream shop, they giv us free taste differ favor of ice cream. Total got 20+ favors, some are low fat, so no need worry eat liao will fat lol..hohoho
The price is RM4.50 for one favor, RM5.50 for 2 differ favors, RM6.50 for triple. Finally i choose d guava + mango taste. Friend took strawberry and chocolate favor and using buy one free one coupon.
BOULEVARD new cookie and sweet shop
after that went to see ppl play basketball, somone's face giv ball hit tiok...kakaka. then went to petanak have a drink.