用音乐连接世界
热带雨林音乐节在每年的7月的第二个周末举办。这一年一度的音乐盛会举行至今已进入第11届了。砂拉越旅游局今年邀请了约17队音乐家,一连三天假文化村呈现各自的民族乐。
这些乐队阵容来自世界各国(如日本、印度、英国、荷兰、葡萄牙等),还有本地砂州和西马的代表。
零距离接触:
主秀前的"Workshop"大约在2时开始。各乐队被安排到长屋区,剧场区等不同场地,好让他们有机会事先热身预演。当你在长屋时,听到另一处传来的欢呼声,不禁让你迫不及待地想到那儿去。
乐手们还向观众介绍了他们独特的乐器,并与观众近距离接触和交流。他们的民族服装和发型也吸引了不少游客注意,想进一步了解他们的文化。有时Workshop还比主秀精彩,别团的乐手突然插入,来个混合即兴演出。
雨中序幕:
主秀节目大约在7时半才进行。主舞台前是个斜坡,离演出开始2小时前,观众们早已铺好地席,以霸个好位子。而在主舞台旁边还设置了一个有趣的小型舞台"树屋",用于安排占地少,时间短的演出。
可惜老天不作美,竟下起了毛毛雨。第一轮演出是正式开始了,雨水不但没停的迹象,反而越下越旺了,大概这就是热带雨"淋"音乐会了吧!
但这场雨始终无法浇灭人们对音乐如火的热情。观众穿着雨衣,拿着雨伞,随着音乐,身体自然摆动起来。有者干脆淋个"落汤鸡",在烂泥浆上戏起水来。
让音乐回归自然
这些观众来自欧、美、亚各大洲,也有来自西马的,但大家都不分国界,一起为乐手们欢呼,拍掌叫绝。雨水"滴答滴答"声响着,似乎也想为音乐会伴奏。
虽然不懂他们在唱些什么(语言的不通),但这不是正好让音乐回归了自然,找回了最
初的感动了吗?
地方也许泥泞不堪,天气也许豪雨如注,但今晚的主秀进展得非常顺利。现场的观众们体验了一场充满异国风情的音乐盛会,直High到午夜。
back house already 11.20 dam tired....
more photo
handcaft show room, look d korean lady with d costume, keep smile at us when i video her.
recycle box for the food

5.00 already got ppl waiting there for the performance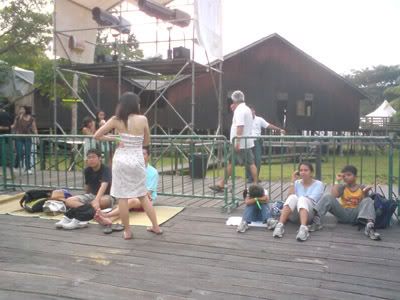 the main stage
i was wondering..how this lady gonna eat there....and how she go pass the custom, when from her country to malaysia...did she take off her....
the wistband, have to wear it when enter, one ticket RM90 for per visitor...wa so expensive. but media free go in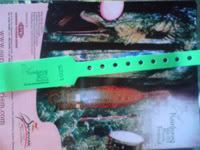 house at SRC
dam tall...