最近遇到朋友同事,都问了这句:"古晋美食节开始喽,你去了吗?"
朋友A:"哎呀,都没什么创意,和往年一样老套! 没什么兴趣。"
朋友B: "挤到要命,找个车位Parking都难,人多到没位子坐!"
朋友C: "食物没什么特别,吃来吃去都是那几样,还贵到半死!"
虽然如此,但大家还是"挤"着去,这就是古晋人!
有个朋友还真是够"力",第一天就去了,而且连续3天去。究竟有什么魅力吸引到他天天都去"花钱"?
听说今年的设计有些改变,不过去了后就察觉没什么变化,有点失望。我想可能外国旅客会比较有兴趣吧。既然来了就别错过8月美食节这个机会,一口气"扫"完本地著名美食。
逛了一大圈,我买了龙须糖,日本铁板烧,台湾香肠,炸鱼肉饺子,烧鱼饼等。口袋里的20+元,就这样像流水般花掉了。果然美食节是古晋市民"大出血"的节日。回到家里打开烧鱼饼的带子一看,才发现竟然少了一粒。所以兵慌马乱时,还是先得检查清楚,避免找错钱,货不对或货不足等情况发生。
记得10年前的古晋美食节,设有游乐园,碰碰车,飞船,鬼屋一类的。还有一些游戏摊位,如射击,吹箭筒,土著巨型千秋等。童军团展览他们的标准营,以木条架成的亭子,了望台等。有些怀念以前的古晋美食节呢。可惜...到了这几年...这些原本有的,几乎都消失了?
今年古晋节的游行,据说从下午五点就开始走,到晚上十二点才全体到达独立广场。那短短的路程竟然要....哈哈。真不愧是"最长气的游行队伍"。
Wednesday went there with chin hui, kiat seng, kiong, cai tying, bing jie...another guy dono what name...sorry...
have no idea...why they show a funny face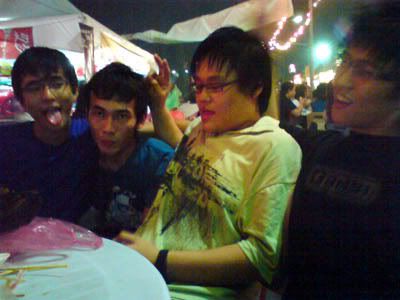 at garden, helping them took group photo.
some funny thing happen, a little girl go near the small lake, kiat seng shout at her and said :"he got trained d", pointing at kiong.
Poor little girl was shock and run away... maybe face problem...haha
actually kiat seng wanna said dont learn kiong do that near the lake, cos kiong got trained, without trained later fall down to d lake.
杰盛当日名言:"华强有练过的",
小妹妹不可以学哦!