香港传奇摇滚乐队Beyond《一生乐与怒》古晋演唱会今晚假团结室内体育馆引爆全场。虽然少了叶世荣,但气氛依旧热烈,吸引了超过3千名歌迷前来捧场。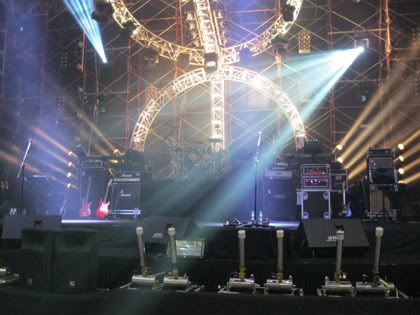 从开场曲的《我是愤怒》第一个音符响起,整个室内体育馆便一片沸腾,歌迷的呐喊声,尖叫声,不绝于耳。直到演唱会结束,仍有歌迷不舍得离开。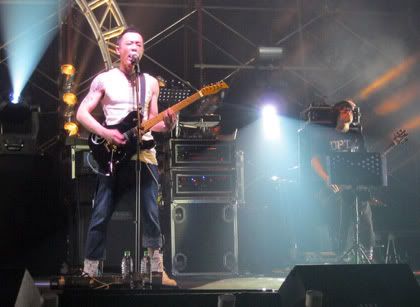 黄贯中和黄家强2人为古晋歌迷准备了25首Beyond金典歌曲,包括《光辉岁月》,《海阔天空》,《真的爱你》,《金属狂人》,《不再犹豫》,《早班火车》,《灰色轨迹》,《冲开一切》及《永远等待》等。他们把Beyond不同时期的代表作演绎出了非凡的现场魅力,让歌迷听出耳油,穿梭岁月。
大约在晚上8时15分,黄贯中和黄家强以一身轻便的装扮出场,观众显然早已按捺不住激动,立即爆发出震耳欲聋的尖叫声。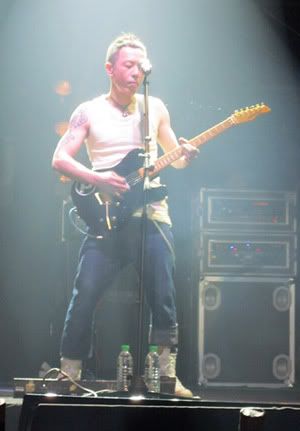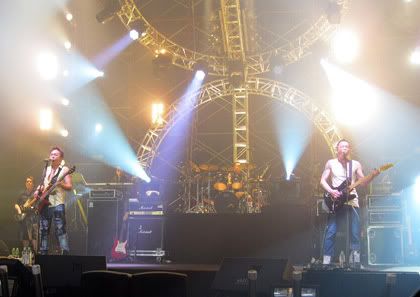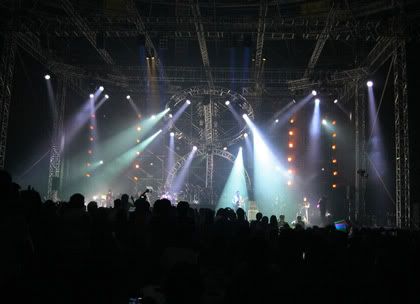 当2人演绎至经典歌曲《早班火车》时,一度将全场气氛推向高潮,让现场观众忘情沉醉于歌声中,站起来齐声合唱。歌迷不停挥舞动着手中的荧光棒,舞台下掀起了波澜壮阔的光浪。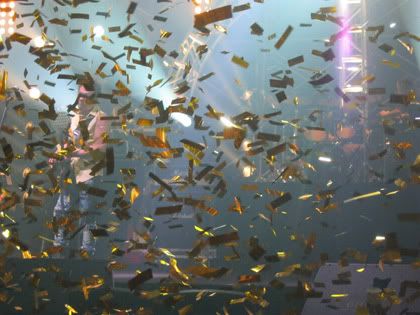 此外,Beyond也为古晋的歌迷带来了一首新歌《In The Name Of Rock》。
当Beyond唱完最后一首歌《海阔天空》后便下台。但歌迷大喊安可Encore,吾好走啊!终于一个鼓手走到台上敲鼓,歌迷就根着喊Encore,他敲的越快,歌迷喊得越快。
大约喊了Encore3分钟后,Beyond再度出现在舞台,首先演奏了《Amani》。Beyond要求歌迷跟着合唱,当时歌迷已陷入疯狂状态,大声合唱,Beyong说"哇,好劲"。接着也唱了《真的爱你》和《喜欢你》。就这样,演唱会在歌迷的尖叫声中落下帷幕。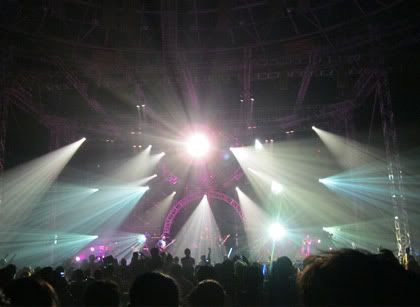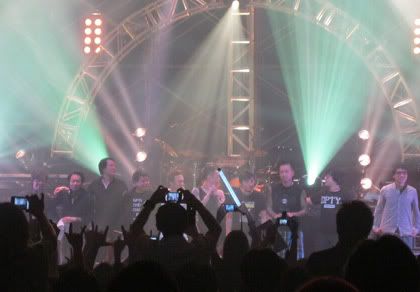 除了主角外,他们也带来了一个鼓手,一个敲击乐手,2个键盘手,2个吉他手,1个贝斯手。全部乐手主唱好像总共是9个人,包括主角。
This is Beyond first concert at kuching, they have prepare 25 songs. When they finish the last song, fans start to shout "encore~! dont go away!"
Then a drummer come out to the stage, the way using drum to encore together with fans really fresh! finally beyond come out again, then sing amani together with the fans!
Really a nice concert, the stage design, lighting, and sound system really professional standard.