went to sushi king meet cosworld ppl.
cos my parents not at home...so today no lunch eat..... order the fish set there...taste ok.. but a bit regret...cos i saw a Ramen look more delicious. Jimmy and vicky order chicken set and cold mee.
order ice cream from sugar bun, only RM1.50..cheap and big....haha vanila mix chocolate.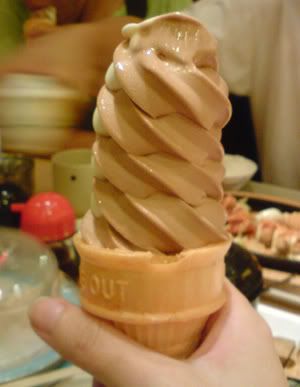 vicky giv me this anglering as present...if shake this small cute thing ho, got lighting come out, blue, red and yellow.
after that went to hock lee center jolly restaurant for our dinner.
Kiong's order rice there....wet wet d @.@"....look geli, he scare eat liao will sakit perut..haha
chicken sandwich...