Went there at 7.00, but really lot cars, no place to park...then have park opposite behind the shop....so far. reach our stall then start stick the paper on wall...haha promote.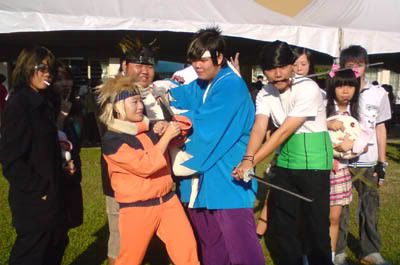 today total around 15-17 cosplayers i think. The famous naruto was bullied by other cosplayers...haha cute.
went out jalan jalan promote our stall, saw the basketball game, kiong play 1 round...but seng play 3 round...RM5 each round 5 balls. Guess what he won at final? he was just wan to throw that softdrink....but end up get 4 more softdrinks...lol hahaha
shiitt oh. i forgot ride d horse there...!!! arrr..Saw got the ghost house...wonder what inside ho. Should ask our cosplayers go inside shock them the ghost back....haha
got a girl name turtle stand outside keep look inside, maybe she wan curi tengok chung nien...haha we at there said. call her phone she dont wan come in bo.
got a guy from chms also named jiet seng in our classroom, was thinking how come chms student keep calling jiet seng...tot they know kiat seng...haha
saw some of my old classmate there, kok hui and jia how. Sei jia how ask him support us take photo no giv me face ha.
My drum sensei went there also.....haha visit our stall and pass the jiraiya sandal to me. thanks.
and get to know zerato also from chms no.1, how he know i join d comic competition last time....shock..
too bad our stall at too behind...should put infront, not many ppl come to last building there.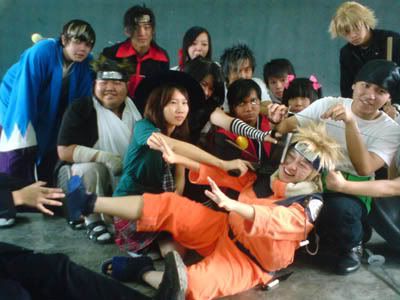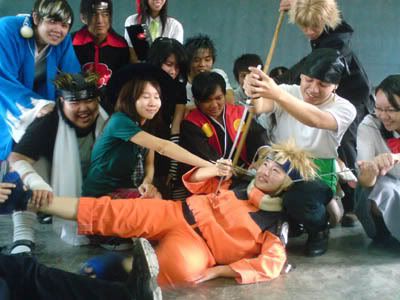 "white hair prince" on da horse
some funny story happen, when hitsugaya captain was to climp up the horse, d horse shock!!! and run away....haha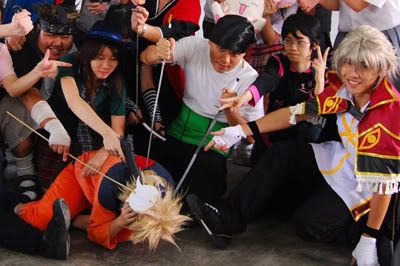 naruto with his father..haha photo by eichi