★古晋万圣节
Location : MJC V5
Date: 27-10-07
朋友的消息得知, 原来古晋也有多个地方庆祝万圣节,在好奇心躯使下便随朋友到新十角石镇MJC~V5去参加万圣节派对。万圣节派对给我的印象是很多人会带着鬼面具,扮成鬼怪,巫婆等。结果,古晋的万圣节一点也不恐怖,可爱的巫婆和恶魔,幕府时代的新选组剑士,塞尔达传说的精灵....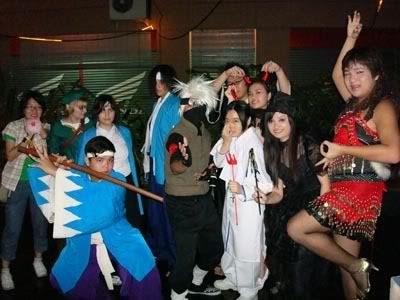 店门口摆设着南瓜灯,一股南瓜阵阵的香味(看来南瓜已被烤熟了)。突然观众高呼蔡依林现身,原来其中一位crossdresser扮演者来个现场热舞。现场的DJ不再拿着黑胶碟打碟,科技如此发达,用电脑就可"打碟"了。进入了数码时代,打碟机也终于也出现了"进化"版。主办当局也请了一些舞蹈员展现他们的Shuffle舞技。活动方面,备有一些游戏让大众参与以赢取奖项。
当晚的扮演者并不多,来看热闹的反而较多,可能万圣节目前在本地还热不起来吧
Went to MJC V5 for the halloween party last saturday. My bro and his friend hui chien come pick me at 7.30 like that, then went to his friend house..oo those group ppl are dancers from maximum. Saw a guy look like charlie and he crossdress that day, he plan to cosplay RO girl wizard next time..hey.
Reached V5 at 9.30, zerato and other lim kok wing student already there....wow.. this time got 3 shinsengumi neh. And wow...the main char from legend of zelda..nintendo famous game, if not wrong the name is link.
But then i dont like the drink there lol..haha not suit me. Got shuffle dance that day, and the crossdresser gain all the attention, he did a hot dance there..hehe.
not much activities there, sleepy...actually i plan early go back also.ehehe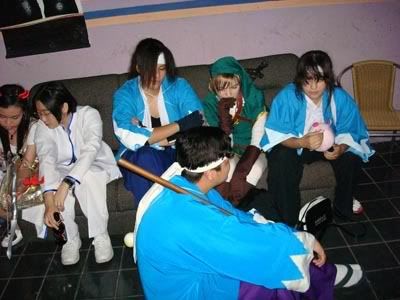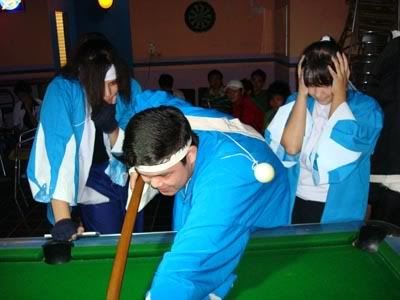 photo credit to jimmy
http://jimmychin.99.com.my/