主题Title: 本地娱乐界交流会 Local entertaiment gathering
日期Date:: 24/11/2007
时间Time: 7.00pm
地点Location: HAPPY VALLEY cafe (opposite crown plaza)
主办单位Organizer: SLaP!乐团 & Starlight乐团
宗旨:
1. 召集古晋的娱乐团体,包挂舞蹈团、歌唱界、摇滚界、电影界等等,足进古晋娱乐界交流,以便将来有更多的合作与发展空间. To gather local entertaiment group, inorder to co-operate in future
2. 支持本土娱乐制作,支持本土娱乐文化。Support local entertaiment and the cultural.
russell playing bass
Hui Chien dance that day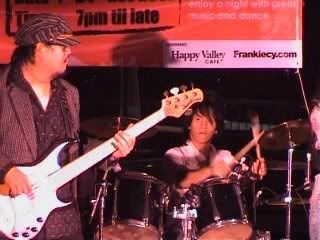 Ho Kan Hui, the drum sensei of kenwy music school
omg...use teeth to play.
DJ use head to play?
The Event start around 7.30, after registered our name, then sit with jimmy them with other bloogers. I was sick that day, so can't talk. Then saw hui chien, one of the dancer from wu ling dance group. (neh the guy cosplay kakashi at halloween that day, hiro and kuruaudee d schoolmate). Then saw my sensei kenzo san, oo he got performance today. Then Russell..the guy play bass in 2 band that day.
The guys help took those food, and we just eat..kakaka..suddenly no electric! omg..over use kua. Candle dinner so romance..kakaka. Then rambo as host come introduce we blogger team here..haha. Soon electric recover. Performance start!
Me leh, busy took video and photo.
Here d video"
look at d DJ..haha use head to play also
Those kids playing violin are cool
Wu li dance group and maximum
Slap band, Dream machine, and kenwy music school(some of them are from monkeykat band)
advertising time..haha! for those who interest on kenwy music house, can call them at 082-364131. Address: 904, 1st floor, Tabuan Jaya shopping centre, 93350 Kuching, Sarawak, Malaysia. Every wednesday they no open, other day is open till night 9.00pm, 6.00pm-7.00pm is rest time.