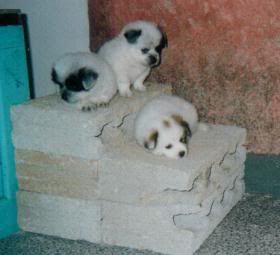 a photo of seifer when he still puppy, the one with panda eyes is him.
Seifer sleep zo this early morning.
RIP, wish u best on ur new journey
born at 23-3-1998, today is 12-9-2007
my father bring him go 7file there, rest together with "pao bei" and "ke ke"
which is his 2 daughter.
also put inside his fav food - "ta fak" fish and roti together with him. so he go there also got thing to eat.
my mum tonight when divide food to the dog....she sad because 3 plates become 2 plates.
my other doggy ~Reki (his son) also very sad today, today he don't wan come out, hide below chair. dont wan eat food, even we give him his fav food "ta fak" fish. He very silent, no mood, dont wan to move, just lay there like thinking something with open eyes.